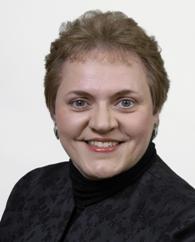 MARINA ALEXANDER
joined
The Metropolitan Greek Chorale
as Conductor in September 2004, and now serves as its Music Director. Drawing on both the Byzantine and Western repertories, under her leadership, the group has performed a wide variety of music from classical to contemporary, with a strong focus on Greek music and music by Greek composers. Recent performances have included pieces by Tikey Zes, Peter Michaelides, Anna Gallos, plus the US Premiere of Ivan Moody's John in the Desert, and the World Premiere of Ms. Alexander's own Strange Mystery, based on 12th c. Byzantine chant.
In 1993, Ms. Alexander founded The Arcadian Chorale. Under her leadership, the 75-voice ensemble has established a reputation for musical innovation and excellence, and is now one of the most active ensembles in NJ. Committed to creating a permanent record of its work, the group has released 11 recordings.
In the Spring of 1995, Ms. Alexander was also named Musical Director of the Richmond Choral Society of Staten Island, NYC, and serves as conductor of that 80-voice ensemble. Leading both choruses, she made her Carnegie Hall debut in November 2002, conducting Dvorak's Te Deum. At that same performance, she led the choruses and orchestra in the World Premiere of her orchestration of Bainton's And I Saw A New Heaven. Her ensembles joined forces again in May 2004, making their debut performance at the New Jersey Performing Arts Center (NJPAC) singing Mahler's Resurrection Symphony.
Known as a scholar and translator, Marina produces many new editions of choral music, including the world premiere of a new English singing version of a lost Ode to Joy by Tchaikovsky, the 2nd performance ever of that piece in the United States. For a May 2002 presentation of Mozart's Requiem, she composed a new completion of the "Lacrymosa" in the style of Mozart.
Ms. Alexander is also Adjunct Assistant Professor of Choral Music at College of Staten Island-CUNY, where she teaches Music History and Conducting. She leads open sings for her own ensembles, as well as the New York Choral Society, West Village Chorale, & North Jersey Choral Society. She has also appeared at Lincoln Center for the National Choral Council's annual Messiah sing.
Ms. Alexander holds a Masters Degree in Conducting from the Oberlin Conservatory of Music, where she studied with Dr. Daniel Moe, and was subsequently invited to teach there as Interim Director of the Department of Choral Music. From that same institution, she earned a BFA in Stage Directing for Opera and then worked with opera companies and festivals both here and abroad. These include the Santa Fe Opera, New Jersey State Opera, Academy of Vocal Arts in Philadelphia, Lake George Opera, and the Corfu International Music Festival.
An advocate for the arts, Ms. Alexander was a founding member and president of the Mid-state Arts Resource Team (mART), a regional organization working to advance the arts in the community. Marina's contribution to the quality of life in Monmouth County, NJ was acknowledged by Fleet Bank when she was nominated for its Small Business Leadership Awards. Recently, she was also honored by the Business and Professional Women of Staten Island as a "Woman of Achievement."
An advocate for music education, Ms. Alexander has served as an adjudicator for the New Jersey Teen Opera Festival, the Monmouth County Arts Council's Teen Arts Festival, and the Sights & Sounds Arts Festival of the Greek Orthodox Churches of NJ. In 2006, she acted as Musical Director for a speciall concert in honor of composer Anna Gallos sponsored by the Eastern Federation of Greek Orthodox Choirs (EFGOC). She teaches conducting privately, and often appears as a clinician and guest speaker at choral workshops and music festivals.